The charts below show our available loan types and terms, and the Annual Percentage Rate (APR) for each. Lock in rates for 30 days for new car loans, used car loans, or auto refinancing. Here, you can view car loan rates at 36 month, 48 or 60 month and 72 month terms.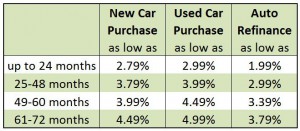 In addition to great low rates, OpenRoad offers a variety of term options as well as other opportunities including:


The option to "skip-a- payment" on your refinance loan

Financing Available for all Types of Credit 
Cashback Refinance Option– Get up to $5000 cash back when you refinance your current loan

On average our customers save 5.6% off of their existing APR

Auto Loan Calculators to help you determine which term is best for you


Is taking the special dealer financing or the rebate the best option for me?
Here is a hypothetical example of a loan with the dealer at 0% APR vs choosing to take the rebate as part of your down payment and financing your new car with OpenRoad Lending: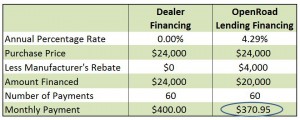 As you can see, a combination of a loan with OpenRoad Lending and a manufactures rebate may be your best option.
Do you have questions? Please contact one of our Loan Care Agents toll-free at (866) 536-3024.
Ready to get started? Just click on the Apply Now and Save button below and you are on your way!