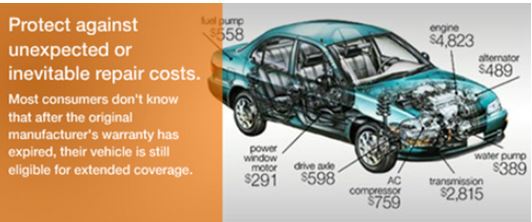 At OpenRoad Lending, we want you to have peace of mind for the life you own your vehicle. That is why we offer industry leading extended service contract to protect your investment and in most cases, offering those to you at a price much cheaper that you can get at the dealership. You found a great deal on your auto loan so why not get the same on that extended warranty? Make sure you speak to your Loan Care Agent about the product that is right for you.
Benefits of Extended Service Contracts
By purchasing an extended service contract, you are insuring against a major problem with your vehicle down the road. Just like you purchase auto insurance in case your vehicle is damaged or stolen, an extended warranty protects your investment after the manufacturer's warranty expires to keep you from having major out-of-pocket expenses. This is most important when you do not own a vehicle out-right or cannot afford major unforeseen expenses.
OpenRoad offers a premier service contract, which gives superior service at a great price. The biggest benefits of our warranties are as follows:
Protection: Our extended service contract protects your vehicle's major mechanical features – engine, transmission, drive axle, seals and gaskets, air conditioning and heating system, electrical, steering system, brakes system, and suspension.
Savings: An extended service contract will save you money by paying for the costly parts and labor you would be charged at the repair facility. OpenRoad Lending allows you to finance the warranty so you do not have to pay a large out of pocket fee.
Convenience: With the service contracts offered by OpenRoad Lending, you are able to take your vehicle to any ASE certified technician. This means you are able to take your vehicle to the nearest repair facility to save yourself towing expenses. Examples of ASE certified technicians are Goodyear, Firestone, Midas, AAMCO Transmissions, and Pep Boys. You may even take your vehicle to the dealership for repairs.
Roadside Service: Roadside assistance may be added at no additional cost with the purchase of the extended service contract. This service has 24-hour towing nationwide, tire assistance, battery assistance, gas delivery, and even provides a locksmith reimbursement. The roadside assistance is also available without the purchase of the extended warranty at a very reasonable cost.
| | | |
| --- | --- | --- |
| | | |
| | New Vehicles | Used Vehicles |
If you are interested in getting an extended warranty quote, please call us at 1-888-536-3024 and ask for a Product Specialist. Service Contract prices are based on the age, mileage, specific vehicle and the term of the contract, so you will have lots of choices in meeting your investment protection needs.
Additional Car Loan and Car Purchase Related Articles:
Car Loans For Bad Credit – What Options Exist?
Online Finance Companies Make Auto Financing Easier
How to Improve Your Credit Score
Negotiation Tips for Buying a Car
What is GAP Coverage?
*Note: Extended Service Contracts are not offered to
Borrowers residing in the state of California and South Carolina